WUI (Writing under the influence)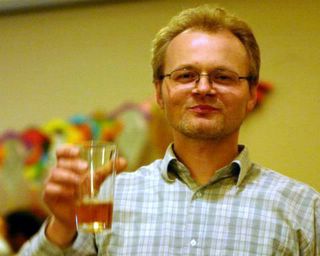 Somebody once said we are all Americans, sometimes born in the wrong places.
On a warm autumn day in 1986, while enjoying beer with my college buddies,
I decided to join my new homeland.
I've come to appreciate the ideals that helped create this great country.
Liberalism, political-correctness, multiculturalism and moral equivalence
are destroying it.
This old house Grovenet Wal*Mart Visiting Poland American wine better than French.
Tuesday, January 20, 2009
The gloves are off
Obama's speech was something between communist manifesto and Bush bashing. Some conservatives want to give him the benefit of a doubt or some more time and so did I. Until, unfortunately I heard what he had to say this morning.

If he believes what he said, he is a worse communist than I thought he was. If he meant what he said about Bush he is deranged. If he didn't but wanted to give something to his Kool-Aid drinking supporters on the Soros left, he is a small, petty man.

I'm starting Obama watch list. I've been hearing for the last 8 years that dissent is patriotic so as a huge patriot that I am, I will document anything he says or, God forbid, does that is, in my opinion, bad for this country.

I will just say that all those references to Bush's policies, especially those Obama will continue as far as war against Islamists is concerned, were not necessary. We can argue about the economy but just as FDR screwed up the economy that didn't need any rescue after Hoover's presidency, so will Obama and he will blame Bush and the media will help him.

Our economy doesn't need rescuing. It needs to be set free. But just as FDR knew that doing something would buy him votes, so will Obama try to divide us even further in losers and winners and pin ones against the others.

I only hope that the talk radio and Fox News will be able to counter the propaganda that FDR got away with and by 2010 the American people will reelect Republicans to just as they did in 1994 to keep Democrats honest and our country free and prosperous.

Archives
October 2004 November 2004 December 2004 January 2005 February 2005 March 2005 April 2005 May 2005 June 2005 July 2005 August 2005 September 2005 October 2005 November 2005 December 2005 January 2006 February 2006 March 2006 April 2006 May 2006 June 2006 July 2006 August 2006 September 2006 October 2006 November 2006 December 2006 January 2007 February 2007 March 2007 April 2007 May 2007 June 2007 July 2007 August 2007 September 2007 October 2007 November 2007 December 2007 January 2008 February 2008 March 2008 April 2008 May 2008 June 2008 July 2008 August 2008 September 2008 October 2008 November 2008 December 2008 January 2009 February 2009 March 2009 April 2009 May 2009 June 2009 July 2009 August 2009 September 2009 October 2009 November 2009 December 2009 January 2010 February 2010 March 2010 April 2010 May 2010 June 2010 July 2010 August 2010 September 2010 October 2010 November 2010 December 2010 January 2011 February 2011 March 2011 April 2011 May 2011 June 2011 July 2011 August 2011 September 2011 October 2011 December 2011 January 2012 February 2012 March 2012 April 2012 May 2012 June 2012 August 2012 September 2012 October 2012 November 2012 January 2013 February 2013 March 2013 May 2013 July 2013 September 2013 October 2013 November 2013 December 2013 January 2014 March 2014 April 2014 May 2014 June 2014 July 2014 August 2014 September 2014 October 2014 November 2014 December 2014 May 2015 September 2015 November 2015 December 2015 March 2016