WUI (Writing under the influence)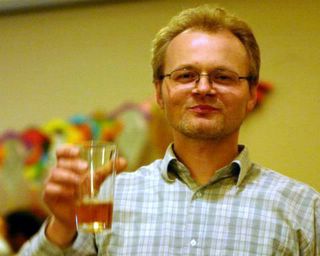 Somebody once said we are all Americans, sometimes born in the wrong places.
On a warm autumn day in 1986, while enjoying beer with my college buddies,
I decided to join my new homeland.
I've come to appreciate the ideals that helped create this great country.
Liberalism, political-correctness, multiculturalism and moral equivalence
are destroying it.
This old house Grovenet Wal*Mart Visiting Poland American wine better than French.
Friday, June 30, 2006
World Cup
Head coach of the Polish national football (soccer) team, Pawel Janas, has resigned rather than wait for an official decision on his future in two weeks.

Tuesday, June 20, 2006
World Cup
As four years ago, Poland is out of the World Cup after winning its last (insignificant) match against Costa Rica. More importantly, the US is still in.
This is also the most difficult time for any World Cup observer. The last two matches in each group are being played at the same time so the teams can't "fix" outcomes as it used to happen many years ago. It's hard to watch two matches at the same time but nothing beats watching them live.
Wednesday, June 14, 2006
Why liberals are liberals?
Because it's easy.
What makes a liberal a liberal? It's a question I've been asking myself lately, perhaps because every liberal I meet nowadays seems to ask me how in the world I could be a conservative. My stock answer is that I'd love to be a liberal because, you know, chicks dig the progressives. But also because I'd love to resolve debates with clever rejoinders like "Halliburton!" or "Fox News!" or "Karl Rove!," and because I'd love to engage in intellectual group hugs rather than confront awkward truths, and because I'd love to show how my heart is in the right place by supporting benevolent-sounding but historically discredited social policies which end up devastating the very communities they're intended to benefit. So, yes, I'd love to be a liberal . . . except these pesky I.Q. points keep getting in the way.
Mark Goldblatt is his superb analysis of liberal mind identifies 4 factors that turn some people into liberals.
Factor 1: abject failure.
People who are frustrated by their lot in life are often drawn to liberal ideas because modern liberalism's contempt for the free market jibes with their efforts to rationalize their disappointments.
Factor 2: guilt.
But of course the majority of liberals are not abject failures. On the contrary, many have attained a considerable measure of social status and financial clout, which calls to mind another reason liberals become liberals-guilt. Guilt-induced liberalism is most common among the more successful members of historically marginalized and currently struggling groups like blacks and Hispanics, or among members of historically marginalized and currently prospering groups like women and Jews. The trappings of achievement-prestigious job titles, comfortable homes, swollen bank accounts-are a kind of inverse torment for such people, an ongoing crisis of authenticity, a sign of the dissolution of their identity within the marginalized group. They feel compelled, therefore, to demonstrate that their sympathies still reside with the underclass.
Factor 3: sin.
Modern liberals deplore moral judgment-except in their collective outrage at conservatives-because they've decided, in their own lives, to abandon the doctrinal elements of Judeo-Christian morality in favor of an ethic whose guiding principle is, in the words of noted Shakespearean dunderhead Polonius, "To thine own self be true." Hence, the liberal mantra, I'm not religious, but I consider myself a spiritual person. Roughly, this translates into: I don't want to give up on an afterlife, but I don't want to be judged by the stuff I'm doing. Liberals, therefore, seethe with resentment towards public displays of traditional faith out of fear such faith carries with it an implicit condemnation of their personal choices.
Factor 4: compassion.
Intelligent people are often drawn to dumb ideas because the dumb ideas speak to their hearts rather than to their heads. The roster of world-class intellectuals who failed to recognize the evils of Communism in the last century is a testament to human frailty, not human imbecility. Tyranny, like charity, begins with compassion; this lesson is utterly lost on liberals, for whom compassion is an absolute good. So it's important to remember that the prime justification of liberalism, at least in the minds of liberals, is almost always fairness. They feel unfairness in their bones. It upsets them. That's how they know they're compassionate.
So why is it easy to be a liberal? Because liberals don't have to accomplish anything.
It is the misguided pursuit of fairness that, in the final analysis, drives the majority of liberals to liberalism. It's a pursuit at which they cannot fail, since it's never-ending; it's a pursuit that alleviates their guilt, since it re-connects them with their roots; it's a pursuit that cleanses their individual sins, since its goal is the common weal. The pursuit of fairness is itself a kind of therapy.
World Cup
This was a pretty sad day for Polish fans.
Poland all but lost any chances of advancing to the next round when it lost to Germany. But the defeat in itself wasn't disappointing. What was really disappointing was that Poland lost to Germany yet again. In the 85-year history of the Polish-German soccer rivalry Poland has never won. More importantly, for the past 32 years many Poles held a grudge against Germany for not postponing by a day or two the semifinal game in the 1974 World Cup against the host team. After heavy rains the field had standing water on it and the Polish team, whose strength were quick counterattack, thought the game to be too important to take any chances. The authorities insisted that the game go on and Poland lost 1:0.
Poland again lost 1:0 today in 90th minute playing one player short. Just when it seemed the Germans would not take advantage of many spectacular scoring opportunities and when the Polish keeper was exhibiting superior skills, one last action by two German substitutes was enough to beat three Polish defenders and the keeper.
I didn't care much about the Polish team losing to Ecuador.
I want the US to go as far as possible to again meet with Germany and avenge that loss 4 years ago on a very questionable goal.
But I can't fool myself. As I was watching the game I was recalling how I felt as an 8-year-old boy watching my heroes lose to Germany, our eternal enemy.
Mathematically, Poland still has a chance. First, Costa Rica has to win with Ecuador. Then, Germany has to win with Ecuador. Lastly, Poland has to win with Costa Rica and 1:0 will not suffice. Poland's goal differential is 3 and with every goal Costa Rica or Ecuador scores it will grow. Is it possible? Of course. Will it happen? Even if Costa Rica, by some miracle, wins with Ecuador, the Germans may play for a 0:0 tie with Ecuador. And Ecuador will cooperate. Germany will finish the group at the first place and will not have to play England right away. And Ecuador will be happy to finish second.
But all of this may be turned into a moot point by 7:45am tomorrow when Costa Rica will succumb to Ecuador. The Cup will still be worth watching. Americans still have a chance. And it will be fun to watch Mexico, Germany, Brazil and France lose.
With U.S. ticket sales slow, Chicks head north of border
Concerts may be reset or canceled in some cities
Hey,
Grovenet
, you may want to go with them. After all, Kerry did lose that election.
Maybe they are insurgents
Police Arrest 40 Polish Fans at World Cup



Police arrested 40 Polish fans ahead of Wednesday's World Cup match between Germany and Poland, a sign they wouldn't tolerate trouble surrounding a game circled for its hooliganism potential.

Four known hooligans were arrested near the soccer stadium and found to have knives after Polish police in town for the game pointed them out to German authorities, Dortmund police spokesman Georg Blaszyk said.
How is it that AP calls them hooligans and not "hooligans" the way it calls terrorists "terrorists?"
Tuesday, June 13, 2006
My Italian hero is on trial for speaking the truth
Author's trial for defaming Islam begins
The trial of Oriana Fallaci, a journalist and author accused of defaming Islam in a book, was opened and adjourned yesterday in an Italian court.
The charge stems from a recent book, The Strength of Reason, one of a trilogy she has published since the September 11 attacks on the US. In the book, Fallaci, 77, is alleged to have made 18 blasphemous statements, including referring to Islam as "a pool that never purifies".
Maybe this is why some lefties want us to be more like Europe.
Coffee reduces risk of cirrhosis from too much alcohol

CHICAGO – Coffee may counteract alcohol's poisonous effects on the liver and help prevent cirrhosis, researchers say.
In a study of more than 125,000 people, one cup of coffee per day cut the risk of alcoholic cirrhosis by 20 percent. Four cups per day reduced the risk by 80 percent. The coffee effect held true for women and men of various ethnic backgrounds.
Monday, June 12, 2006
World Cup
Poland lost 2:0 to Ecuador and I was just slightly sad. Poland still has a chance but I don't care as much about Poland as I do about the US. There many reasons for it. First, this may be the last chance for the US to go far before the older players will retire and building a new team may be too difficult for 2010. Second, I just want the US to win as many games and upset as many "favorites" as possible on old European continent.

So I'm really depressed right now, after the first half of the first game. The US is 2 goals behind and they don't look as good as they did 4 years ago. I can only hope that they can pull off the same stunt as Australia did earlier this morning by scoring 3 goals in 5 minutes when it seemed Japan would end up winning 1:0 after a very questionable goal.

So there is hope. And I will root for Poland. I will even root for Italy. I will obviously root against Mexico and Brazil.

I hope I will feel better in 45 minutes.

Thursday, June 08, 2006
How can I (better) support him?
Elimination of Zarqawi
made me think today that that was exactly why I voted for Bush twice: he will not give in to the left's demands to withdraw and to lose another just and winnable war, and he will save us a lot of money in the process by killing terrorists instead of prosecuting them in American courts. (I only wish he had ordered elimination of Hussein instead of prosecuting him now.)
But he has also been wrong on many other issues. Fiscal discipline is not his forte and
the way he wants to treat illegal aliens is not what I would like to see happen.
I still support the guy and I've been keeping the
W'04 bumper sticker
on my car. Until today.
Today, I finally received the
Bush-Was-Right bumper sticker
from
The Right Brothers
. It conveys much better, I think, the reasons why I've been behind Bush for all these rough years: he cut taxes and the economy is booming and he took the battle to the enemy so the enemy has not had a chance to take it to us.

Dixie Chicks tour struggling in several markets
It's easy to buy a CD and "support" so called "dissenters."
It seems that "support" doesn't translate in people actually
willing
to listen to the music:
NASHVILLE (Billboard) - Initial ticket sales for the Dixie Chicks' upcoming tour are far below expectations and several dates will likely be canceled or postoned. [sic]

[...]

The plug was pulled on public on-sales for shows in Indianapolis (August 23), Oklahoma City (September 26), Memphis (September 27) and Houston (September 30) because of tepid pre-sales in a national promotion with Target stores.

The Memphis show has been pulled off the route and the status of the shows in Indianapolis, Houston and Oklahoma City remains uncertain. Industry speculation has it that much or all of the tour may be postponed. At the very least, it is likely routing and capacity will be reconfigured.

Early ticket sales for this tour are in marked contrast to the Chicks' last proper outing in 2003 when a national on-sale moved some 867,000 tickets the first weekend, and second shows were added in several markets. The Chicks ended up with the top-grossing country tour of 2003 at $62 million.
So I guess the real country fans are still
dissing
the chicks. I hope
these guys
will benefit.
I was about to go to bed when...
...I saw this on the screen:
Yes, I have the cable. I get the cable every four years to watch the World Cup. This year, I have it connected to my computer so I can record every single game on my computer.

Oh, and one last thing. Enjoy your virgins, Zarqawi.
Thursday, June 01, 2006
Keep your greedy hands off my money!
Kulongoski, a liberal "Catholic" (the worst type of politician)
wants to keep steal my money
. I paid $5,148 in income state taxes in 2005 and I want some of it back. According to some estimates I would get $900. I need it. What for? I'm sending two of my four children to private schools at the cost of $6,000 a year. That's what I want the money for. The other two will be joining them soon.
We should have vouchers or tax credits or at least some tax deductions for doing the responsible thing and taking care of our children's education ourselves. But no, he wants to use my money for what already is overpriced and at best mediocre public education for other children so the public employees' unions can endorse him in November. Thieves!
Oh, and by the way, has he thanked president Bush and his
"tax cuts for the rich"
for that great economy that produced all that unexpected tax windfall? I didn't think so.
Archives
October 2004 November 2004 December 2004 January 2005 February 2005 March 2005 April 2005 May 2005 June 2005 July 2005 August 2005 September 2005 October 2005 November 2005 December 2005 January 2006 February 2006 March 2006 April 2006 May 2006 June 2006 July 2006 August 2006 September 2006 October 2006 November 2006 December 2006 January 2007 February 2007 March 2007 April 2007 May 2007 June 2007 July 2007 August 2007 September 2007 October 2007 November 2007 December 2007 January 2008 February 2008 March 2008 April 2008 May 2008 June 2008 July 2008 August 2008 September 2008 October 2008 November 2008 December 2008 January 2009 February 2009 March 2009 April 2009 May 2009 June 2009 July 2009 August 2009 September 2009 October 2009 November 2009 December 2009 January 2010 February 2010 March 2010 April 2010 May 2010 June 2010 July 2010 August 2010 September 2010 October 2010 November 2010 December 2010 January 2011 February 2011 March 2011 April 2011 May 2011 June 2011 July 2011 August 2011 September 2011 October 2011 December 2011 January 2012 February 2012 March 2012 April 2012 May 2012 June 2012 August 2012 September 2012 October 2012 November 2012 January 2013 February 2013 March 2013 May 2013 July 2013 September 2013 October 2013 November 2013 December 2013 January 2014 March 2014 April 2014 May 2014 June 2014 July 2014 August 2014 September 2014 October 2014 November 2014 December 2014 May 2015 September 2015 November 2015 December 2015 March 2016