WUI (Writing under the influence)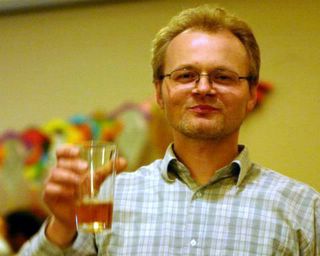 Somebody once said we are all Americans, sometimes born in the wrong places.
On a warm autumn day in 1986, while enjoying beer with my college buddies,
I decided to join my new homeland.
I've come to appreciate the ideals that helped create this great country.
Liberalism, political-correctness, multiculturalism and moral equivalence
are destroying it.
This old house Grovenet Wal*Mart Visiting Poland American wine better than French.
Wednesday, August 30, 2006
Question of the day
[C]an we truly afford to return to the destructive view that America--not the enemy--is the real source of the world's trouble? -- Defense Secretary Donald Rumsfeld
Via: Best of the Web Today - August 30, 2006
---
Yahoo! Messenger with Voice.
Make PC-to-Phone Calls
to the US (and 30+ countries) for 2¢/min or less.
No choice but blame
Liberals have no choice but blame Bush and his administration for the Katrina "fiasco" because the alternative, telling the truth about the utter failure of the socialist utopia that had been created in New Orleans over the last 30 years, would severely undermine their politics. They still would like to build thousands of places like New Orleans where they would like to lock us up and tell us exactly how to live. This is nowhere more apparent than here in the Portland metro area where we are locked up within what liberals call urban growth boundary. The traffic is unbearable; house prices unattainable; farmers who would like to retire can't sell their land. But people still vote for those bozos and this November even more of them could be elected.

And all of it because the media just can't tell the truth even if their life depended on it.
Stop continental drift now
UN is not the answer
---
Yahoo! Messenger with Voice.
Make PC-to-Phone Calls
to the US (and 30+ countries) for 2¢/min or less.
Saturday, August 19, 2006
World record!!! France surrenders before any conflict starts
Tuesday, August 15, 2006
More trouble in (Bush-hating) paradise.
More than 20,000 Dixie Chicks fans in Houston bought the band's latest album, the 1.5 million-selling Taking the Long Way.
That much is clear, along with the fact that the Dixie Chicks' Houston concert date was canceled.
The promoter blames the radio stations.
Initial reports cited slow ticket sales. But tickets for the Toyota Center show never went on sale.
The country radio stations credit their listeners with the cancellation and blame the Chicks for a bad attitude.
Thursday, August 10, 2006
(Most) Republicans' priorities: life, liberty and pursuit of happiness
(Most) Democrats' priorities: pursuit of happiness, liberty and life

It's your choice.

I really hope they did it without any warrants
Wednesday, August 09, 2006
Some get it and many more still don't
While 20 UK citizens of Pakistani descent are being arrested in England for planning to blow up planes between UK and US,
Italy's new center-left government prosecutes its own anti-terrorist officials and journalists who facilitated the "kidnapping" of a radical Islamist imam, Abu Omar by CIA.
It seems that Italians still don't get it and, like the Spaniards, have given in.
[...] Italy seems to have no problem with those who use mosques and Islamic cultural centers to spread hatred and Jihadist ideology among their followers. So far, Italy had no problem with the mosque of Viale Jenner in Milan, even though it is well-known for turning previously moderate Muslims into terror supporters, some them even ended up fighting Jihad in Iraq, Afghanistan and Chechnya. Before coming to Italy, Abu Omar was expelled from Egypt for his extremist activities.
No wonder Fallaci lives in the US.
This is also why I decided not to travel to Italy this year leaving my wife to travel alone with our 4 children. Too many people I know over there support the new government and prefer strongly its way of handling home-grown Muslim radicals.
And, of course, they hate Bush.
Tuesday, August 08, 2006
Illegal immigration contradiction
I don't understand something about
this story
.
SAN YSIDRO, Calif. -- U.S. Customs and Border Protection officers arrested a U.S. man Tuesday morning after they say he tried to smuggle three migrants into the country hidden in the seats of his vehicle.

CBP officers said they encountered the driver, a 33-year-old resident of Rosarito, Mexico, as he entered the port at about 5 a.m. driving a GMC Vendura van.

According to authorities, the driver stated he was a citizen of the United States and presented a valid California identification and birth certificate to the officer.

The primary officer said the driver has a nervous demeanor. The officer referred the vehicle and occupant to a secondary lot for a more in-depth examination.

In the secondary lot, CBP officers discovered three undocumented migrants sewn into three seats of the conversion van, including the driver's seat. CBP officers said they carefully extracted two men and a woman from inside the seats.

Officers determined that the two men and woman are citizens of Mexico. They are being detained as material witnesses in the prosecution case.

The driver was charged with alien smuggling and was transported to the Metropolitan Correctional Center to await arraignment. The vehicle was seized by CBP.

"This case illustrates the length to which smugglers will go to transport undocumented people into the United States," said Adele Fasano, director of field operations in San Diego. "This involved good basic police work by alert CBP officers who intercepted this case."
Somebody who didn't know any better would say that we don't need any wall on the border because our customs and border protection officers do their jobs so well there is no way any illegal alien can get through.
But I wonder why, when we need all these illegal immigrants to do jobs Americans will not do, should we go through all these efforts to stop them from crossing.
Why would U.S. Customs and Border Protection officers go to such lengths as to extract illegal aliens from car seats while, at the same time, we completely disregard the fact that there are plenty of illegal immigrants who are easily recognizable all around us?
Are they doing this just to fool us?
Global warming
This is a pretty long piece but worth reading. Somebody in MSM is trying to figure out what the truth about global warming really is. She is asking "physicist and meteorologist Craig Bohren, distinguished professor emeritus at the Pennsylvania State University for sorting out problems, biases, and what objective answers that exist.
"Bohren has no horse in the climate change debate: As a retired professor, he is not worried about losing or gaining funding based on his opinions."
So this is what the prof thinks and I may just agree with most of it.
The concentration of carbon dioxide in the atmosphere has been steadily increasing since the beginning of the Industrial Revolution. This increase is most likely a consequence of increased burning of fossil fuels.

Carbon dioxide is an infrared-active gas (I hate the term "greenhouse gas"), and hence all else being equal (an important qualification) we expect more downward infrared radiation (and a heating effect) from the atmosphere with an increase in carbon dioxide. The detailed consequences of this, however, are unknown and possibly unknowable. By consequences I mean length of growing season, distribution and amount of rain, distribution and amount of sunshine, etc. And the economic and social consequences are even more uncertain. However the climate changes, it is likely that some regions of the planet will gain, others will lose.

Climate has changed in the past, and there is no reason to believe that it will not change in the future. After all, the last Ice Age ended only about 10,000 years ago, and it is fair to say that another Ice Age would be equally or more catastrophic for Earth than global warming.

How much of the present climate change is a direct consequence of human activity is difficult to say with certainty.

A prudent society would reduce its dependence on fossil fuels, especially oil, as quickly as possible for many reasons, not just the possibility of global warming. A prudent society would also develop drought-resistant crops and make other long-term plans for inevitable climate change of any kind.

At the present, there seems to be no alternative to central power generation than nuclear power. Fusion is pie-in-the-sky. We are not even close to fusion. Solar and wind and tidal power can help but are not panaceas. Conservation is desirable but probably not acceptable to many people. The advantages and disadvantages, costs and benefits of all schemes for power generation should be carefully assessed. A full and honest balance sheet is needed. No matter how power is generated, some people will die or be injured as a consequence. This is a fact of life. I worked on the construction of a large power plant (not nuclear) about 46 years ago in Pittsburg, California. It was taken as axiomatic that several workers would die in the construction of any power plant.

Whatever the US and Europe do to mitigate consumption is likely to be negated by increased consumption in countries such as China, India, and Brazil.

Those who advocate less consumption (in the US) should show the way by consuming less themselves.

Because of the present large population of Earth and the existence of nation-states, mass migration of people is no longer a feasible response to climate change without wars on all scales.

There is no simple solution to global warming given the disparate views of people of different religions, political views, and nationalities, as well of competition between different countries for resources.

The concept of tradeoffs has to be firmly grasped by everyone, especially environmentalists, who whine about global warming and then hop in jet planes and fly 2000 miles to go skiing in the Rockies. The notion of "green" power generation is absurd. A network of wind turbines adequate to provide appreciable power would require staggering amounts of construction materials: steel, aluminum, concrete. The same is true for solar power and tidal power—and anything else.
And lastly, professor Bohren says:
Skeptics about global warming are often painted as hirelings of the oil and automotive industries. Such claims irritate me. I have never earned a nickel as a consequence of my skepticism. Indeed, I have lost hundreds of thousands of dollars by it. First, you have to understand how a large research university operates. The professors are expected to obtain research grants, and in the atmospheric sciences these grants come mostly from government agencies.

In the atmospheric sciences it is difficult to get grants unless you can somehow tie your work to global warming, that is to say, to scare science. Because of my reputation, I immodestly believe that I could have jumped onto the global warming bandwagon. But I refused to do so because I would have found this repugnant.
That pretty much sums up my objections to the alarmists' view that we have to do something and we have to do it now. It's all about money. It's funny when the lefties accuse us of being greedy. Really funny.
I hope this is just a coincidence
Eleven Egyptian students who were supposed to travel to a Montana university after flying to JFK airport late last month disappeared in New York, spurring federal authorities to issue a nationwide alert [...]
President Mahmoud Ahmadinejad "and his followers clearly believe that this time is now, and that the terminal struggle has already begun and is indeed well advanced. It may even have a date, indicated by several references by the Iranian president to giving his final answer to the US about nuclear development by Aug. 22," which this year corresponds "to the 27th day of the month of Rajab of the year 1427. This, by tradition, is the night when many Muslims commemorate the night flight of the prophet Muhammad on the winged horse Buraq, first to 'the farthest mosque,' usually identified with Jerusalem, and then to heaven and back (c.f., Koran XVII.1).
"This might well be deemed an appropriate date for the apocalyptic ending of Israel and if necessary of the world. It is far from certain that Mr. Ahmadinejad plans any such cataclysmic events precisely for Aug. 22. But it would be wise to bear the possibility in mind."
Via Drudge
Stick it to the chicks
Dixie Chicks Cancel 14 Shows on Tour



NASHVILLE, Tenn. (AP) - Several concerts on the Dixie Chicks'"Accidents & Accusations" tour have been canceled after slow ticket sales, but the group says it has replaced them with other dates.

Kansas City, Houston, St. Louis, Memphis and Knoxville are among 14 cities no longer on the original schedule released in May, according to a revised itinerary posted Thursday on the Dixie Chick's Web site.

Other shows, including Nashville, Los Angeles, Denver and Phoenix, have been pushed back to later dates.

The North American leg of the tour kicked off July 21 in Detroit. Billboard magazine and other trade publications have reported lackluster sales in some markets, particularly in the South and Midwest.
Monday, August 07, 2006
Act like a man: don't drink light beer
Milwaukee's Best Light
has these funny commercials on TV where men who don't act like real men -- they call their wives to check in during a poker game with their buddies; they clean grease off their pizza; they find small, ugly dogs adorable; they are afraid of insects; they think a can of beer is too heavy to be loaded onto a truck; they jump on a trampoline bending their legs like cheerleaders, etc., etc. -- are crashed by huge cans of light beer falling from the sky.
The irony of these commercials is that real men would not drink light beer in the first place.
They are a few exceptions of course. Like when you crawl on all fours in the desert and you find a can of Milwaukee's Best Light...
Are public schools next?
New Medicaid rules require citizenship documentation

The Portland Business Journal - 9:52 AM PDT Monday
Oregonians applying for Medicaid programs will be required to provide evidence of citizenship beginning Sept. 1, as mandated by the federal Deficit Reduction Act, passed earlier this year by Congress.

The law affects those receiving Medicaid-paid Oregon Health Plan medical coverage, long-term care benefits and family-planning services. Approximately 500,000 people receive Medicaid benefits in Oregon. The state Department of Human Services estimates that as many as 3,000 persons may need state assistance in obtaining their documents.

Current recipients who are re-enrolling will generally be given 45 to 90 days from the re-enrollment date to produce documents, officials said. Individuals not currently enrolled in Medicaid will be expected to provide the required documents before they may begin receiving benefits.

"Both Gov. Kulongoski and federal officials have made clear that no one who is eligible for Medicaid should be denied services unnecessarily," said Dr. Bruce Goldberg, DHS director. "So we will balance full compliance with this new federal law with assistance to persons who cannot readily comply because of mental illness, homelessness, illiteracy or other legitimate barriers."

States expect the federal government to pay half their costs of administering the new law, Goldberg said.
Sunday, August 06, 2006
Everybody knows I like beer but this is just ridiculous
On
my last trip to Poland
I made sure to drink as much Polish beer as possible.
But it wasn't easy. First, I was overwhelmed by the plethora of choices. There were, of course, brands I enjoyed before leaving Poland almost 20 years ago. And I made sure I revisited as many of them as possible.
But there were at least three times as many new brands. And 7 days were hardly enough to try them all. But I did my best and it
shows
:
Largest beer producer sees sales soar in Q2
Warsaw, Poland August 4, 2006
SABMiller's Polish unit, Kompania Piwowarska (KP), increased its Q2 beer sales 12.3% y/y to 3.5 mln hectoliters, the company said in a statement.

The company's share in the Polish beer market stood at 37% in Q2.

The beer industry association ZPPP said on Thursday that Poland's beer market increased 6.6% y/y to 9.4 mln hl in the second quarter.

In H1, KP sold 5.8 mln hl, some 11.6% more than in the year prior period.

Kompania Piwowarska is Poland's largest beer producer, owning such brands as Tyskie, Lech, Pilsner Urquell and others.

In the fiscal year ended on March 31, KP netted PLN 570 mln on revenues of PLN 3.8 bln.
Friday, August 04, 2006
During the American revolution
many
famous
and
less famous Poles
fought for freedom even though no freedom would be brought to their own country. They simply fought for a good cause. There are many Americans fighting against Hezbollah and dying for a good cause.
Michael Levin died yesterday.

Thursday, August 03, 2006
If Hezbollah's time table is open ended (i.e., as long as it takes to destroy Israel) why does our time table have to be any different (i.e., as long as it takes to destroy Islamo-fascists)?

Archives
October 2004 November 2004 December 2004 January 2005 February 2005 March 2005 April 2005 May 2005 June 2005 July 2005 August 2005 September 2005 October 2005 November 2005 December 2005 January 2006 February 2006 March 2006 April 2006 May 2006 June 2006 July 2006 August 2006 September 2006 October 2006 November 2006 December 2006 January 2007 February 2007 March 2007 April 2007 May 2007 June 2007 July 2007 August 2007 September 2007 October 2007 November 2007 December 2007 January 2008 February 2008 March 2008 April 2008 May 2008 June 2008 July 2008 August 2008 September 2008 October 2008 November 2008 December 2008 January 2009 February 2009 March 2009 April 2009 May 2009 June 2009 July 2009 August 2009 September 2009 October 2009 November 2009 December 2009 January 2010 February 2010 March 2010 April 2010 May 2010 June 2010 July 2010 August 2010 September 2010 October 2010 November 2010 December 2010 January 2011 February 2011 March 2011 April 2011 May 2011 June 2011 July 2011 August 2011 September 2011 October 2011 December 2011 January 2012 February 2012 March 2012 April 2012 May 2012 June 2012 August 2012 September 2012 October 2012 November 2012 January 2013 February 2013 March 2013 May 2013 July 2013 September 2013 October 2013 November 2013 December 2013 January 2014 March 2014 April 2014 May 2014 June 2014 July 2014 August 2014 September 2014 October 2014 November 2014 December 2014 May 2015 September 2015 November 2015 December 2015 March 2016