WUI (Writing under the influence)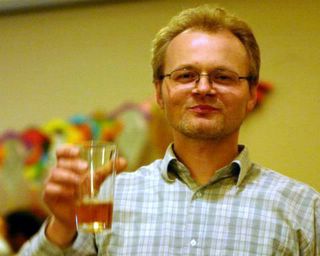 Somebody once said we are all Americans, sometimes born in the wrong places.
On a warm autumn day in 1986, while enjoying beer with my college buddies,
I decided to join my new homeland.
I've come to appreciate the ideals that helped create this great country.
Liberalism, political-correctness, multiculturalism and moral equivalence
are destroying it.
This old house Grovenet Wal*Mart Visiting Poland American wine better than French.
Monday, August 07, 2006
Are public schools next?
New Medicaid rules require citizenship documentation

The Portland Business Journal - 9:52 AM PDT Monday
Oregonians applying for Medicaid programs will be required to provide evidence of citizenship beginning Sept. 1, as mandated by the federal Deficit Reduction Act, passed earlier this year by Congress.

The law affects those receiving Medicaid-paid Oregon Health Plan medical coverage, long-term care benefits and family-planning services. Approximately 500,000 people receive Medicaid benefits in Oregon. The state Department of Human Services estimates that as many as 3,000 persons may need state assistance in obtaining their documents.

Current recipients who are re-enrolling will generally be given 45 to 90 days from the re-enrollment date to produce documents, officials said. Individuals not currently enrolled in Medicaid will be expected to provide the required documents before they may begin receiving benefits.

"Both Gov. Kulongoski and federal officials have made clear that no one who is eligible for Medicaid should be denied services unnecessarily," said Dr. Bruce Goldberg, DHS director. "So we will balance full compliance with this new federal law with assistance to persons who cannot readily comply because of mental illness, homelessness, illiteracy or other legitimate barriers."

States expect the federal government to pay half their costs of administering the new law, Goldberg said.
Archives
October 2004 November 2004 December 2004 January 2005 February 2005 March 2005 April 2005 May 2005 June 2005 July 2005 August 2005 September 2005 October 2005 November 2005 December 2005 January 2006 February 2006 March 2006 April 2006 May 2006 June 2006 July 2006 August 2006 September 2006 October 2006 November 2006 December 2006 January 2007 February 2007 March 2007 April 2007 May 2007 June 2007 July 2007 August 2007 September 2007 October 2007 November 2007 December 2007 January 2008 February 2008 March 2008 April 2008 May 2008 June 2008 July 2008 August 2008 September 2008 October 2008 November 2008 December 2008 January 2009 February 2009 March 2009 April 2009 May 2009 June 2009 July 2009 August 2009 September 2009 October 2009 November 2009 December 2009 January 2010 February 2010 March 2010 April 2010 May 2010 June 2010 July 2010 August 2010 September 2010 October 2010 November 2010 December 2010 January 2011 February 2011 March 2011 April 2011 May 2011 June 2011 July 2011 August 2011 September 2011 October 2011 December 2011 January 2012 February 2012 March 2012 April 2012 May 2012 June 2012 August 2012 September 2012 October 2012 November 2012 January 2013 February 2013 March 2013 May 2013 July 2013 September 2013 October 2013 November 2013 December 2013 January 2014 March 2014 April 2014 May 2014 June 2014 July 2014 August 2014 September 2014 October 2014 November 2014 December 2014 May 2015 September 2015 November 2015 December 2015 March 2016