WUI (Writing under the influence)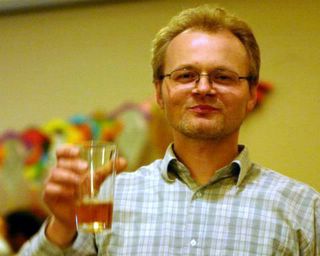 Somebody once said we are all Americans, sometimes born in the wrong places.
On a warm autumn day in 1986, while enjoying beer with my college buddies,
I decided to join my new homeland.
I've come to appreciate the ideals that helped create this great country.
Liberalism, political-correctness, multiculturalism and moral equivalence
are destroying it.
This old house Grovenet Wal*Mart Visiting Poland American wine better than French.
Monday, April 28, 2008
What a weird day!
First, my wife's car's brakes started making too much noise for her comfort so I went home after lunch to fix them. Because MPVs have a defect whereby front rotors don't cool uniformly, which leads to warping and requires machining the rotors once a year or so, I decided to do it myself. Machining of both rotors is about $50 plus new pads are $20. Much better than what I paid my mechanic the last time.

In any case, when I came home I found a message from somebody names Jill from the Oregonian working on a story "analyzing" the political landscape in Forest Grove. She got my name from our local paper, I think, because she referred to my many letters to the editor. She didn't even know I ran for the city council 4 years ago. I told her I thought the city is probably close to 50-50 split between Democrats and Republicans (including so leaning independents) with a slight advantage going to the left last and possibly this election cycle because of the war. Of course, I told her that if my wish came true and Pacific University disappeared tomorrow this would be a solidly republican town. Other things we discussed was the obsolescence of libraries and their use as a means to indoctrinate children after public schools are done indoctrinating them.

I made sure I mentioned a few of my neighbors who are so extreme they voted for Kucinich 4 years ago and of course will vote for Obama only because Kucinich is out trying to defend his congressional seat. Lastly, I told her that as a faithful follower of all Rush Limbaugh's orders I'm participating in the Operation Chaos.

Than, a couple hours later, two people from the Obama campaign -- who opened its headquarters just a few days ago in Forest Grove -- came by to ask me to vote for Obama. And this is the most fun part. They came because they knew I was a registered Democrat. But when I told them why, their smiles turned into disbelieve that we actually do exist. I told them I would do anything (legal) to deny Obama the presidency. They were polite (I guess that is the 'change' part of the Obama campaign for as long as he thinks he has a chance) so the conversation ended without any shouting.

This is going to be a very interesting few months.

Friday, April 25, 2008
Quote of the day (today)
"The real problem isn't the "problem" but the Big Government solution to it. " --
Mark Steyn
Quote of the day (yesterday)
"But Hillary Clinton isn't going to drop out. There simply isn't a function in her assembly code for throwing in the towel." --
Chris Wilson
Tuesday, April 22, 2008
Almost forgot...Tax day
Why would Democrats give free college to everybody but wouldn't give me at least a tax deduction on the private school tuition I pay for my 4 children?

Earth Day
Global Warming is a hoax and Al Gore is a crook.
Friday, April 11, 2008
If they competed fairly they would never win
This a scheme perpetrated here in
Oregon
as well: a judge retires leaving the governor with the option to nominate the most liberal judge who then runs as an incumbent and people either don't vote at all or blindly vote for the "known" quantity. So it is refreshing to see my old home getting some of its senses back.
But the voters, even in Wisconsin, are brighter than their Democrat masters give them credit for.
Governor Jim Doyle called the result of Wisconsin's state Supreme Court election "a tragedy." It's surprising to hear how little he thinks of his constituents, who had the sense to depose one of the court's ultra-liberal justices and in the process helped toughen the standards for judicial accountability.

The election was a referendum on Louis Butler and the high court's sharp political turn. Justice Butler was appointed by Governor Doyle, a Democrat, to fill a vacancy in 2004. This gave liberals a majority and Justice Butler proceeded to indulge the legal theories of the tort bar and activist left, for instance laying waste to Wisconsin's medical malpractice laws and endorsing a "risk contribution" liability standard for lead paint that made the question of guilt or innocence irrelevant.
Starbucks and 'Laissez Faire'
I believe in free markets and this is why I (almost) never buy coffee from Starbucks: it's expensive and it's not good. If I remember correctly, the guy who founded Starbucks had gone to Italy and was impressed by the coffee there and tried to bring to the US. Well, he is a miserable failure.
In any case, it seems that the entire operation is a miserable failure.
Is the phrase "laissez-faire" threatening? Only to officious bureaucracy, I would think. So, it must be that the phrase is considered to be "inappropriate" by corporate Starbucks.

But why should it be considered inappropriate? The phrase itself is an imperative. It's French for "leave us alone," more or less. And it comes to us through history as advice offered to Jean Baptiste Colbert, finance minister under the French King Louis XIV in the 17th century. Colbert is best known for his statement: "The art of taxation consists in so plucking the goose as to obtain the largest possible amount of feathers with the smallest possible amount of hissing." When Colbert asked a group of merchants, "What do you want from us?," the answer was, "laisser nous faire." "Laissez-faire" is, then, an old piece of economic advice with an impeccable French heritage.

Maybe Starbucks considers the phrase inappropriate because it's "overtly political commentary"? Certainly my friend regards it as a firm statement of political philosophy.
It's not about the race
Legal or not, too many immigrants coming at the same time are not what any country needs. People around the world may have low opinions of the US but when it comes to issues that affect them directly, they would be surprised to find out that
we are all in the same boat.
Since 2004, when citizens of eight central and eastern European countries were given the right to work in Britain, the number of UK-born people working here has fallen by 500,000, from 24.4 million to 23.9 million.
Quote of the day
"Democrats' incoherent policy on Iraq requires them to deny, explicitly or implicitly, the reality of what is happening there." --
Powerline
Quote of the day
"Democrats' incoherent policy on Iraq requires them to deny, explicitly or implicitly, the reality of what is happening there." --
Powerline
Tuesday, April 01, 2008
4/1
I went to the Washington County election office and re-registered as a Democrat today. I'm waiting for orders from my master Rush Limbaugh before I vote in the Democrat primary.

This is not a joke. Actually, it is. It's on the democrat party of Oregon. You mess with our primaries, I will mess with your.

The Polish fool of the day
Zbigniew Brzezinski is a disgrace. He served in the Carter administration. That should be enough to make him the most incompetent person to make any pronouncements the foreign policy of the US. But like his boss, he just can't keep his mouth shot and
he makes us look even more stupid than we really are
.
The biggest Polish fool says:
"Contrary to Republican claims that our departure will mean calamity, a sensibly conducted disengagement will actually make Iraq more stable over the long term. The impasse in Shiite-Sunni relations is in large part the sour byproduct of the destructive U.S. occupation, which breeds Iraqi dependency even as it shatters Iraqi society. In this context, so highly reminiscent of the British colonial era, the longer we stay in Iraq, the less incentive various contending groups will have to compromise and the more reason simply to sit back. A serious dialogue with the Iraqi leaders about the forthcoming U.S. disengagement would shake them out of their stupor."
Archives
October 2004 November 2004 December 2004 January 2005 February 2005 March 2005 April 2005 May 2005 June 2005 July 2005 August 2005 September 2005 October 2005 November 2005 December 2005 January 2006 February 2006 March 2006 April 2006 May 2006 June 2006 July 2006 August 2006 September 2006 October 2006 November 2006 December 2006 January 2007 February 2007 March 2007 April 2007 May 2007 June 2007 July 2007 August 2007 September 2007 October 2007 November 2007 December 2007 January 2008 February 2008 March 2008 April 2008 May 2008 June 2008 July 2008 August 2008 September 2008 October 2008 November 2008 December 2008 January 2009 February 2009 March 2009 April 2009 May 2009 June 2009 July 2009 August 2009 September 2009 October 2009 November 2009 December 2009 January 2010 February 2010 March 2010 April 2010 May 2010 June 2010 July 2010 August 2010 September 2010 October 2010 November 2010 December 2010 January 2011 February 2011 March 2011 April 2011 May 2011 June 2011 July 2011 August 2011 September 2011 October 2011 December 2011 January 2012 February 2012 March 2012 April 2012 May 2012 June 2012 August 2012 September 2012 October 2012 November 2012 January 2013 February 2013 March 2013 May 2013 July 2013 September 2013 October 2013 November 2013 December 2013 January 2014 March 2014 April 2014 May 2014 June 2014 July 2014 August 2014 September 2014 October 2014 November 2014 December 2014 May 2015 September 2015 November 2015 December 2015 March 2016