WUI (Writing under the influence)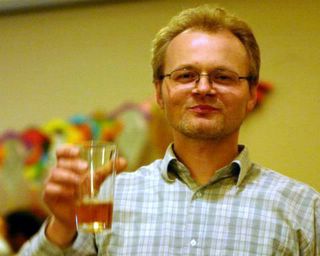 Somebody once said we are all Americans, sometimes born in the wrong places.
On a warm autumn day in 1986, while enjoying beer with my college buddies,
I decided to join my new homeland.
I've come to appreciate the ideals that helped create this great country.
Liberalism, political-correctness, multiculturalism and moral equivalence
are destroying it.
This old house Grovenet Wal*Mart Visiting Poland American wine better than French.
Tuesday, May 31, 2005
Hanging high against Bush
I always wonder if
these people
have no real jobs to go to.
Monday, May 30, 2005
Memorial Day
Iraq is another Vietnam
While I listened again to Michael Medved's "Three Big Lies
about the Vietnam War" I realized how similar Iraq and Vietnam
wars were. In both cases, the wars were justified and
waged with the approval of the Congress. In both
cases, the left tried to discredit them.
The most amazing similarity is that in both cases the
left accused our soldiers of wide-spread atrocities
where there only were isolated incidents that
unfortunately can't be prevented. In both cases, the
left waged the PR war to turned the American public
against the wars.
In Vietnam, the left succeeded. Let's hope they will
fail in Iraq.
Good intensions of "real" Christians...
...have been proven not to work yet
some still insist that the only answer to every societal problem is higher taxes
. The problem is what do you do if your state already has one of the highest tax rates in the country?
I personally have a problem with the Catholic Church relaying on liberal governments to cure the problems that the same liberal governments help create. I also find it curious that the Catholic Church would support governments that advocate policies that clearly run afoul of the teachings of the Catechism. As far as I can see, the bible teaches us to share what's ours, not to take it from others to make us feel better.
One sure way to solve the "poverty problem" is better education. But the left again thinks that better education always means more money. When real solution are offered, the "real" Christians like our governor Kulongoski, a self-proclaimed Catholic,
reject them
. No wonder
American employers are closing their doors and moving elsewhere
. High taxes and over-regulation don't help either.
When I went to high-school in Poland, I had 6 hours of math and 6 hour of physics every week for all 4 years. To graduate, I had to take a written exam in Polish, math and physics, and oral in English. Nobody cared about people who failed. Today, the Chinese, Indians, Koreans still don't care. Their schools are geared to produce highly educated workforce. As long as Americans is unwilling to admit that some children will do much better than others and that many will fail, we will not be able to compete with Asians without "importing" brain power from other countries. So far, we only import the worst of the worst through illegal immigration. Our public schools spend a lot of money to cater to those and other "special-needs" students and
fail to concentrate on the more gifted ones
.
Also, universities in the US waste money on unnecessary and even
harmful programs
instead of dedicating most resources to educate high-quality engineers:
PORTLAND — An early draft of a five-year "diversity plan" for the University of Oregon has drawn a firestorm of criticism from faculty, prompting administrators to distance themselves from the proposal.

The draft plan, billed as a "long-term vision for diversity," called for the university to hire up to 40 faculty members by 2012 to teach courses in a "cluster" of diversity-related topics, including race, gender, gay and disability studies.

Under the plan, academic departments that hew closely to the university's diversity goals when hiring would be given "priority in the funding of new positions."

The plan also would mandate that faculty up for promotions or tenure be evaluated on their "cultural competency" — the ability to successfully work with people from all cultural backgrounds. Traditionally, research, publications and teaching have been the key elements of a tenure review.
This is just crazy.
Why we don't care
Arthur has a good
post
on the Amnesty International fiasco comparing Gitmo to gulags. The report is based mostly on
uncorroborated accounts of prisoners
. What's the most striking to me is that the left would trust terrorists and not our military. This reminds me a lot of how the left trusted communists during the Cold War; especially during and after the Vietnam war.
Why does so called "international community" wonder that the US doesn't want to participate in any international organizations? Why should we support organizations that are clearly anti-American? Most lefties want us to participate. Maybe that's their idea of the
massive suicide
we have to commit to placate Islamofascists.
More lefty kookiness in the Grove
One would think that only a lefty kook would hope that Bush can be impeached. Worse, only a really loony lefty kook may think there is actually a reason for impeachment. It seems though that a local librarian, the wife of a peace studies prof from PU thinks there may be a chance and posts the following on the GroveNet:
Important series of links here, for those hoping
for a start to accountability at the very top:

http://www.afterdowningstreet.org/
Only a relly loony lefty kook indeed.
Sunday, May 29, 2005
Memorial weekend wine tasting
I started drinking wine many years ago as a student in Poland. But I could only afford Bulgarian, Rumanian and Hungarian red wine. I had a friend with whom we would meet every weekend to roast a chicken on my East-German made electrical rotisserie, watch movies and enjoy a bottle or two of some Egri Bikaver.
So when I moved to Italy, I was well primed to undergo further "culturing" and learned quickly to appreciate very good wines. I owe it mostly to my Italian in-laws who over the years introduced me to some very good labels and vintages.
Memorial weekend wine tasting is a tradition in Oregon. This is the second time in five years that I was convinced to go. In both cases, my father-in-law was here so it was easier to be convinced. We went to the nearby
Montinore Estate
the first time. It was an utter disappointment. Wine, mostly Pinot Noir, was very expensive and not really overwhelming. In other words, bad value. A bottle of decent Pinot Noir goes for at least $20 and can easily reach $30 and more.
So this time, we decided to go farther from home in search of something better. We went to Eola Hills. First to
Eola Hills Winery
and then to
Witness Tree Vineyard
. The result? My overall opinion about Oregon wines from Willamette Valley has not changed. They are overpriced and can't compete with wines from California, not to mention, Italy. Unless, of course, Pinot Noir is your thing. It's not mine. I simply don't get this wine.
The trip itself, however, was a lot of fun. First, the views in Villamette Valley complement nicely other typical Oregon landscapes: beaches, mountains and the prairie. But for me, views of Oregon vineyards remind me of the country where I lived for a short while, visited many times and, more importantly, where I met my wife.
I worked many different jobs in Italy, from a day laborer to dish washer to fruit picker. I also worked in some vineyards near Rome pruning plants. So views like these bring many memories. They remind me of hard work I did once in Italy for about $15 a day. But they also remind me of the cheap wine we drunk after we finished the work.
Another fun part of the trip was the fact that we could taste wine directly from barrels. Some of it was almost ready to be bottled, some of it was still fermenting.
A nice touch were platters with cheeses, crackers and nuts. But we opted for some serious BBQ. If the wine doesn't satisfy, a good BBQ always will. We had a full rack of spare ribs.
Wine could be tasted between 1pm and 5pm for $5 per person. So after a short break for some lunch we were back at the cellar.
I did find some decent wine for a reasonable price to take home: 2000 Coyote Cabernet Sauvignon. After the Montinore fiasco, I would probably never have bought it had I not tasted it first. But this wine is just OK for $8.50 per bottle I paid for it, presumably paying less at the source. For comparison, the 1999 Nerello del Bastardo I buy at Trader Joe's goes for almost $2 less and is much better.
Italian wine still offers much better value.
When we got home, I checked the news. And, as expected and as I hoped, the French soundly rejected the EU Constitution. I don't care much for France but I was happy for Poland for
there is still a chance for freedom
.
I do not buy French products. And I don't think I miss much. I do think, for example, that
Ferrari Spumante
can easily compete with Moet & Chandon or Dom Perignon. But tomorrow, at Veronika's God-parents' BBQ party, we will be drinking this (in addition to some good home-brewed beer Veronika's God-father is very proud of):
To France!
UPDATE:
It tasted so much better considering what we were celebrating.
The beer is gone, there is still some wine left.
Wednesday, May 25, 2005
Moving to California?
The reason why I've never considered moving to California is that most product I use in my daily life cause cancer in California. A typical warning label on some of those products say: "This product is known to cause cancer in state of California" or something to this effect. It seems that now even
food will cause cancer
in the Golden State.
"Fake" Christians taking over Madison?
Madison, WI, my previous home town for 5 years,
voted down two school referenda
. I wonder if there has been a surge in
"fake" Christians
moving to town recently...
Tuesday, May 24, 2005
"Fake" Christians' empathy
Peace Studies Prof's wife says she only reserves those Nazis-Fascists labels she uses so often in her post on GroveNet for so called "fake" Christians who don't follow the "real" teachings:
The problem is, those of any religion -- who use it to spread and/or justify violence -- cannot see that they themselves are phony. They seem to be basically ill-intentioned folk -- who grab onto and use a skewed idea of their "religion" -- to harm others/to make the world a more dreadful place/etc. This would apply to a Christian, Muslim, or anyone else. Sometimes it is people in a temporary mindset of ill intentions and hate; other times a person is set that way for life. But in this mindset, the person cannot see that they are not being true to the actual religion they claim to be acting in the name of. (And I am speaking of religions in which the majority of believers manage to believe in and strive for non-violent solutions to things.)
I guess then that if you don't vote to increase your taxes,
you are a "fake" Christian;
if you oppose
European market systems
because they create too much dependency on government at too little self-reliance,
you are a "fake" Christian;
if you want to keep some of your Social Security tax in your own account,
you are a "fake" Christian;
if you don't want a nanny state that takes care of every problem in your life, including
dispensing Viagra to sex offenders
,
you are a "fake" Christian;
if you think big corporations, with all their faults, are still better poverty busters than any government ever created,
you are a "fake" Christian;
if you think Wal-Mart does nothing wrong when it employs people at minimum wage,
you are a "fake" Christian;
if you don't believe humans cause "global warming" and trying to "fix it" will destroy our economy and cause even more poverty,
you are a "fake" Christian;
if you don't want government-run, European-style, universal health care because you are afraid that it will
kill more people by rationing services
,
you are a "fake" Christian;
if you oppose public funding for NPR and PBS because you are afraid it will lead to
government-sponsored propaganda
you remember from your old country,
you are a "fake" Christian;
if you don't want illegal immigrants to go to college and pay resident rates,
you are a "fake" Christian;
if you don't like the French,
you are a "fake" Christian;
if you don't buy that while multi-culturalism crap because you think individuals can't be generalized,
you are a "fake" Christian;
if you are against the library levy,
you are a "fake" Christian;
(the levy didn't pass making the majority of Forest Grove residents "fake" Christians)
if you oppose homosexual marriage,
you are a "fake" Christian;
if you don't want to use Spanish to teach Latino children in public schools,
you are a "fake" Christian.
And, of course, if you decide to defend your children from Islamo-fascists,
you are a "fake" Christian.
Her husband
accused me
of lacking empathy for human suffering.
(Almost forgot. If you voice your opposition to
unhinged professors
who rant relentlessly against this country and everything it stands for, if you voice your opposition to activities taking place in certain liberal-arts colleges that
approve
of those activities under the guise of academic freedom,
you are a "fake" Christian.)
It may be true that I don't share his empathy when it comes to replacing perfectly good computers in the local library or keeping it open 24/7 in a town of 19,000 residents. Or when it comes to asking people to pay slightly more for services in our aquatic center so it doesn't constantly lose money. I reserve my empathy for real, not fake, suffering.
I've decided to post in its entirety the speech delivered during the 10 o'clock mass last Sunday by the representative of the St. Vincent de Paul branch associated with St. Matthew's parish where we donate most of our charity money and sometimes even some time.
Have you noticed when watching a sports event, say a basketball game, how the athletes give a hand slap, or a high-five, to a teammate, even when they have just missed a free throw? It is sometimes done so often that it becomes meaningless.

Well, I would like for all of you, right now, to turn to the people around you, give them a firm, meaningful handshake, and say thank you, thank you!

Brothers and sisters, for what you have done, and what you continue to do, a "Thank You" hardly seems enough. Since the first of this year your generosity has:

Helped feed 2,513 families. It has provided rent or utility assistance to 152 families.

It has given furniture, beds or mattresses to 38 families.

And, it has helped 128 families with either clothing or medical prescriptions.

Behind these numbers are 2,831 stories of need and suffering. Let me share just three of them.

David stood in line several hours to get help with his rent. When we visited him at his home, he shared that he had several diabetes, and is able to work only part time. He was so grateful for help from St. Vincent de Paul, that he even shed a few tears. When our volunteer called his property manager to say we would help, she said, "Oh, thank you, and God bless you! David is such a wonderful young man, and he tries so hard!"

Juan and Maria, a young couple with a two year old son, and one on the way, came to the Hertle Center to get food. Juan is learning to speak English, and had just been laid off from his job. Maria is attending school in an effort to get her high school diploma. She takes their son to the childcare program at the school. They are hardworking and sincere, and Juan has recently been able to find some work. We were able to provide food, and help with their rent. Juan now volunteers at the Hertle Center when he can.

Mabel is a senior citizen who struggles to live on her $750 a month Social Security check, and she regularly comes in for a little food. One day she came in crying. She had paid some medical expenses, and now had to little left to pay her rent. All our volunteers received a big hug when we told her we would be able to help.

We are again in need of volunteers. We desperately need help on the furniture truck. If you can spare a few hours, just one or two days a week, bring your strong back to the Hertle Center, and we will put you to work!

We also need someone with a pickup truck or van to pick up boxes. As I have told you before, "The pay isn't much, but the benefits are out of this world!"

Some time back, I started one of these talks by telling you that I had seen Jesus that week. I said that several of us had seen Jesus at the Hertle Center. And we did! In his gospel, Matthew tells us that Jesus is present in the poor. He taught us that we all gain in spirituality when we assist those in need. We literally earn our way to heaven through our good works.

Most certainly, each of you has earned many spiritual benefits through your generosity and your caring. So I say again, Thank You... Thank You... and please keep on caring!
But it doesn't count for they are probably "fake" Christians.
Monday, May 23, 2005
Answers from 'peace-mongers'
My question for peace mongers on GroveNet sparked a small controversy. First I received these two replies from the usual suspect: the Peace Studies Prof and his wife. First, the wife:
It is possible that the reason you don't already know an answer to your "question," or that you even have the "question," because of your habit of labeling people good or bad, up or down, always or never.

Think about it: There is logic in shades of gray.

Peace is a good thing. Someone who speaks out hatefully against people who are pro-peace should be suspect in a society. Disagreement on a few issues about how to go about peace (as one example) makes sense ... But using the word "peace" in a disparaging way against someone personally?!!

It is almost a certainty that you will respond to my response with more vitriol and hate, which you just can't seem to get rid of ... at least here on GroveNet.

Move past the personal hate, which you seem to have for some unknown reason, in singling out my husband and others of us who have less selfish philosophies of life. It does no one any good when you get personally hateful here.

I thought about writing you a personal email to discuss things with you. But since you like disparaging my husband and "peace mongers" personally, in public on GroveNet, I thought it only fair for the rest of GroveNet to see how I feel, too.

As I've said before, we would come to your defense in 1st Amendment matters (and others), even if you would not do the same for us.

"First they came for the Jews and I did not speak out because I was not a Jew.
Then they came for the Communists and I did not speak out because I was not a Communist.
Then they came for the trade unionists and I did not speak out because I was not a trade unionist.
Then they came for me and there was no one left to speak out for me."

Pastor Martin Niem?ller

That is ALL I have to say to you ... until any time ou show more decency to me and mine.
And then the husband:
I am quite familiar with having to deal with people who are prone to violence, verbal or otherwise, people who see only one rigid world view, people who have a difficult time empathizing with others, attack dog type people, people who are entirely lacking in dialogic skills...yes, I know them pretty well. We study them in Peace Studies.

Responses so far on this thread have pretty much covered the issue. The questioner was not showing up on G-Net when 9/11 happened. So, he missed my posting that day, the one that dealt with symmetrical and asymmetrical warfare. I took the wild guess back then that the US would not take three airliners, fill them with people, and start looking for tall Islamic buildings to crash into.

But the events that have unfolded since the attack, with fifteen people from Saudi Arabia among the nineteen terrorists, have demonstrated that we have tried to apply symmetrical warfare principles...with the exception that we chose to target Afghanistan and Iraq rather than Saudi Arabia. Probably too much Halliburton influence there anyway, right?

So, we have spent hundreds of billions of dollars in these two excursions, clamped down on our own freedoms, lost nearly 2,000 good young people, killed over 100,000 Afghanis and Iraqis, all the while failing to accomplish the mission and failing to find Osama Bin Forgotten. We are also seeing daily proof that our force structure is
ill-designed for responses beyond a certain limited range of thinking and planning.

Great track record.

Negotiation is beside the point at this juncture. What we have failed to do, miserably, is recognize that when we exploit people mercilessly, ruthlessly, while supporting tin horn dictators at virtually every opportunity...resentments will build up. One of my children is adopted, from Chile. When he arrived in the US in the spring of 1980, as a seven-month old, he was in terrible, terrible physical condition. Now, six years before he was born, a CIA-backed "insurgency" (ha! How
ironic, that word), assassinated the popular, populist and duly-elected leader of Chile, Salvador Allende, and replaced him with the brutal military figure, Augusto Pinochet, who promptly led the country into a terrible economic stagnation (per capita annual income then in Chile was $150) supported by horrifically repressive and violent tactics against any form of dissent. We backed this criminal to the hilt. So, when I held my child in my arms for the first time at PDX, I knew he was tiny and underfed, but I should also have been making the connections between
the CIA and his systemic physical ailments. How many children from that Santiago orphanage were also developmentally disadvantaged because of US policies that supported dictators? How many such children around the world suffer because of our policies, practices, and open arms for dictators?

Well, that sickly child grew up to be quite a fine young man and he is beginning to make his contribution to society. He will do well. Others may not be so lucky.

I believe we need to rethink our priorities totally. Instead of economic colonization and extravagant military expenditures, we would win countless more friends and reduce the number of violent mullahs and the cause they serve if we supported true democratic reforms (not like the tissue-thin reforms in Iraq, with more than 100 stipulations that guarantee Halliburton and the like total control in important areas...see Paul Bremer's directives), invested in economic infrastructure reforms that would lead to an enhanced standard of living, helped countries with large national debts get out of that vicious cycle (we are headed there quickly with Bush's idiotic policies), and reduced world-wide military expenditures...which drain national resources without adding true security.

Shalom.
I will comment on both replies later. The end result however is that I've decided to take a break from posting on GroveNet. There is no rational debate with people who label other people all the time and than turn around and accuse me of labeling them. There is no rational debate with people who use so called 'hate speech' in every sentence they write and then turn around and accuse me of spewing hate in my posts for simply attacking the policies they advocate. I challenge them to find one instance when I attacked one of them personally. On the other hand, there are countless posts where words like Fascists, Nazis and imperialists are hurled at certain Christians and, in general, at people who voted for Bush and support his policies.
Thursday, May 19, 2005
A question for 'peace mongers'
In a recent discussion on GroveNet I used a term 'peace mongers' and I used it to disparage a faction on the left who professes that wars are not necessary and that peace can be accomplished through non-violent means.
Peace mongers, like a very well known (in Forest Grove) Peace Studies professor from Pacific University, often give examples of India and the British Empire, South Africa and the Apartheid, the Cold War (which, in my opinion is a bad example because the Cold War included the Korean War, the war in Vietnam and Afghanistan and other smaller battles against the communism hegemony) to show how some past conflicts were resolved peacefully.
Those examples are not all bad. But trying to apply the lessons of those events to every danger we face is suicidal. Some of our enemies are irrational and don't want to compromise. They want us dead because of who we are and not what we do. That's why I call this faction of the left peace mongers: they want us to just commit a suicide in name of some vague principle of the superior peace-making ability.
The events of last week surrounding the Newsweek story show that some people have so much hate toward the western values and so much control over their followers that a small paragraph in otherwise inconsequential magazine can spark violent riots.
So I have a question for peace mongers on GroveNet.
How do you negotiate with people like this guy and his followers?
The following is a snippet from a sermon delivered by Sheik Ibrahim Mudeiris, which ran last weekend on the Palestinian Authority's official TV station:
The day will come when we will rule America. The day will come when we will rule Britain and the entire world - except for the Jews. The Jews will not enjoy a life of tranquillity [sic] under our rule because they are treacherous by nature, as they have been throughout history. The day will come when everything will be relieved of the Jews - even the stones and trees which were harmed by them. Listen to the Prophet Muhammad, who tells you about the evil end that awaits Jews. The stones and trees will want the Muslims to finish off every Jew.
It seems to me that this guy is not ready for any compromise short of pushing Israel into the sea and forcing all westerners to commit a mass suicide or to live in slavery.
And related question for peace mongers is: what if American "artists" start desecrating Islamic symbols such as the Koran the way they frequently desecrate Christian symbols and call it art and some Muslim country asks the US government to make them stop or it will go to war with us? Are you willing to compromise our civil liberties (
you and ACLU hold so precious when Bush and Republicans want to make us more secure
) to placate Islamofascists?
(BTW, some of peace mongers defend WWII and are offended when Roosevelt's motives are questioned. This is very interesting because some questions do remain. I think WWII was a just war including the two A-bombs and raids over some German cities. If the war in Iraq can result in long-lasting peace in the whole region and in the world, why would we question Bush's motives? Of course, peace mongers deny that peace can be obtained from anything Bush does. Life under Hussein and Taliban was so much more peaceful.)
Wednesday, May 18, 2005
Time flies
This platitude is repeated often when birthdays are celebrated. Natan, my younger son, just turned 7. It made me look back on the years passed. It made me think about Madison where both my boys were born. It made me think about my first house.
But there are other, rather unusual events that make us think about passage of time. For example, speaking of houses, the skylight in the bathroom I just finished opens with a crank mechanism.
I installed the skylight shortly after I bought it. But I had to wait to install the crank until the ceiling was completely finished. This just happened last month.
When I was cleaning up I took this picture. It shows the label on the box, in which the crank came.
That's right. Natan was only 3 at the time and my two daughters were not born yet.
Busy but trying to catch up
It's been 9 days since I last posted and when I did
I complained about not having time to post more.
I do find time to post occasionally to GroveNet,
a mailing list where we from Forest Grove and vicinity
discuss everything from international politics to
who in Forest Grove drives the biggest SUV.
So I've decided to CC some of my posts to the blogspot
because I just learned how to post to the bloggerspot
by sending e-mail. I may have to edit some posts
later to make them look nicer but posting in the
first place is a good start.
BTW, this is the first post I e-mailed. Too bad
I can't attach any graphics.

__________________________________
Yahoo! Mail Mobile
Take Yahoo! Mail with you! Check email on your mobile phone.
http://mobile.yahoo.com/learn/mail
Monday, May 09, 2005
Busy
Yes, I'm busy. Too busy to even write a word or two in this journal.
I'm too busy to write anything creative about a great anniversary just passed. Again, I have to rely on my blogger-friend Chrenkoff to
bail me out
. One thing I wanted to add is that the US is in fact the best place to live for a Pole because this country is indeed an idea born in Poland a long time ago. Unfortunately, Poland is still waiting for its chance...
I'm too busy to mention that the bathroom is almost finished and I'm moving on to building a new door that will enclose the new bathroom together with the master bedroom to create a master suite. I've been taking pictures of the progress and I will post them soon...
I'm too busy to mention that a
manufacturing plant in Forest Grove is closing
and over 100 people will be losing good jobs. But I will have to write more about it because the solution may require some old-fashioned Polish medicine. So I will write later...
Archives
October 2004 November 2004 December 2004 January 2005 February 2005 March 2005 April 2005 May 2005 June 2005 July 2005 August 2005 September 2005 October 2005 November 2005 December 2005 January 2006 February 2006 March 2006 April 2006 May 2006 June 2006 July 2006 August 2006 September 2006 October 2006 November 2006 December 2006 January 2007 February 2007 March 2007 April 2007 May 2007 June 2007 July 2007 August 2007 September 2007 October 2007 November 2007 December 2007 January 2008 February 2008 March 2008 April 2008 May 2008 June 2008 July 2008 August 2008 September 2008 October 2008 November 2008 December 2008 January 2009 February 2009 March 2009 April 2009 May 2009 June 2009 July 2009 August 2009 September 2009 October 2009 November 2009 December 2009 January 2010 February 2010 March 2010 April 2010 May 2010 June 2010 July 2010 August 2010 September 2010 October 2010 November 2010 December 2010 January 2011 February 2011 March 2011 April 2011 May 2011 June 2011 July 2011 August 2011 September 2011 October 2011 December 2011 January 2012 February 2012 March 2012 April 2012 May 2012 June 2012 August 2012 September 2012 October 2012 November 2012 January 2013 February 2013 March 2013 May 2013 July 2013 September 2013 October 2013 November 2013 December 2013 January 2014 March 2014 April 2014 May 2014 June 2014 July 2014 August 2014 September 2014 October 2014 November 2014 December 2014 May 2015 September 2015 November 2015 December 2015 March 2016