WUI (Writing under the influence)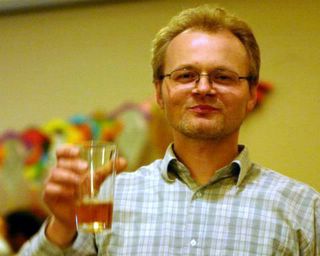 Somebody once said we are all Americans, sometimes born in the wrong places.
On a warm autumn day in 1986, while enjoying beer with my college buddies,
I decided to join my new homeland.
I've come to appreciate the ideals that helped create this great country.
Liberalism, political-correctness, multiculturalism and moral equivalence
are destroying it.
This old house Grovenet Wal*Mart Visiting Poland American wine better than French.
Wednesday, May 14, 2008
That piece
I've noticed that things disappear from the big 0's electronic pages from time to time so I copied and pasted the whole thing below.
Left turn at Forest Grove
The city's progressive community is growing and getting more vocal
Thursday, May 08, 2008
JILL REHKOPF SMITH
The Oregonian Staff

FOREST GROVE -- Anywhere but Multnomah County.

That's what Krystof Zmudzinski, a self-described "radical Republican," told his wife when they moved to the Portland area in 2000 from the left-leaning college town of Madison, Wis.

The Intel engineer knew Portland's progressive (he would say "liberal") reputation and wanted none of it.
So the Zmudzinskis chose a home in Forest Grove that happened to be two doors down from Carol Woodford -- a supporter of Dennis Kucinich, the former presidential candidate who proposed cutting the military budget, using the money for child care and establishing a Department of Peace and Nonviolence.

Although the mismatched neighbors are civil, they represent two sides of Forest Grove's political picture, which both see as split between progressives and conservatives.

In the past two years, though, the number of registered Democrats in Forest Grove has increased while Republican registrations have declined. And the local, vocal progressive community is growing in size and volume.

Of roughly 9,000 registered voters in the city, 40 percent are Democrats, 34.5 percent are Republicans, 22 percent are nonaffiliated and 3.5 percent are registered with smaller parties, such as the Libertarian or Independent parties, according to the Washington County Elections Division.

Zmudzinski's friend, Ray Arkus, can see the difference: "Republicans and conservatives are definitely in the minority now."

The political picture is changing across Washington County. In December, voter registration countywide flipped back to majority Democrat. It had switched to majority Republican in 1981, during Ronald Reagan's first year as president.

Forest Grove was ahead of the countywide shift. In January 2006, Forest Grove, Cornelius and Beaverton were the only three cities -- of 12 countywide -- with more registered Democrats than Republicans. Six other cities have since joined them: Hillsboro, North Plains, Tigard, Tualatin, King City and Durham.

Of those original three, only Forest Grove and Beaverton consistently gave a majority of Democratic votes in three of the decade's highest-profile contests: Al Gore and John Kerry for president in 2000 and 2004, respectively, and Ted Kulongoski for governor in 2006.

Some of those newly registered Democrats may be Republicans such as Zmudzinski, who on April Fool's Day changed his registration so he can vote for Sen. Hillary Clinton in the May 20 Oregon presidential primary and keep that race dragging on, as suggested by conservative talk radio hosts.

The registration change brought two polite but unsuspecting canvassers for Sen. Barack Obama to his door, Zmudzinski reports on his blog.

But overall, Zmudzinski guesses the new Democratic leaning here may reflect that "the entire country is slightly tired of Republicans," mostly because of the Iraq war.

Progressive and conservative forces have faced off in Forest Grove for decades. On the urban fringe, this city of 20,000 might be expected to hold a more Republican orientation, as do most of its smaller, rural neighbors, said Bob Van Dyk, chairman of Pacific University's politics and government department.

But Forest Grove has several features those towns don't, such as a liberal arts university.

"Forest Grove I think would look a lot more like Banks or Gaston or North Plains than it looks now if the university weren't here," said Van Dyk, who lives in town.

Early progressives

The city's progressive roots run deep. Both the university and the Forest Grove United Church of Christ that sits across the street were founded in the mid-1800s by pioneers from the Congregational Church. That church had recently helped free the Amistad ship's mutinous slaves -- a progressive cause of its time.

More recently, organic, farm-fresh food drew Forest Grove progressives in the 1970s to a thriving food cooperative and cafe in what is now Pacific University's Milky Way building. The co-op served as a cultural center for professors, students and the back-to-the-landers sprinkled across rural western Washington County.


n the early 90s, many of those co-op veterans joined new activists to fight an anti-gay ballot measure in Cornelius.

Sister Barbara Raymond and two other nuns, then new Cornelius residents working at Centro Cultural, helped organize a campaign against the measure, which passed in 1993 but was later declared unconstitutional.

That loss -- to a well-organized conservative group -- sparked local progressive activists to organize. In 1994, they formed what is now called the West County Council for Human Dignity and began tackling issues related to immigration, civil liberties, campaign finance reform and state budget cuts.

Statewide network

The council is part of the Rural Organizing Project, a statewide network of 67 groups that focus on social justice and human rights. Adelante Mujeres, a Forest Grove nonprofit that works with low-income Latinas, is also a member.

The council was one of seven groups to participate in a 2004 survey to seek progressive voters. Fifty volunteers went door to door in Forest Grove to ask about voter attitudes on issues such as the Iraq war, same-sex marriage, civil liberties and children's health care.

Of the 368 people surveyed, 112 took a progressive line on almost all issues, 199 gave mixed reactions and 57 were hostile or uninterested.

In the last group would have been Ray Arkus, a retired veteran who runs the Local Fisherman News Web site. He remembers a "human dignity group of some kind" getting past his usual defense against "left-wing" activists: "On my doorstep, I'll fly the American flag. That'll usually deter them."

Local progressive groups are organized, he said. "I'll salute them on that. They hit you at every turn, they testify at every hearing, they pack the boards."

Arkus did not get one of the thank-you notes or voter guides council volunteers sent after the survey to the progressive and "mixed" voters, along with invitations to council events. Since that survey, the council's mailing list has more than doubled to 410 households, and another survey is starting this month.

Also in 2004, the news editor of Willamette Week left the progressive Portland paper to take over the Forest Grove News-Times. That made the local publication "considerably more lively and open than the average small-town paper," said Walt Wentz, treasurer for the West County Council. "It's getting much more cosmopolitan."

A recent front-page story focused on a talk by one of Pacific's politics and government professors, Jules Boykoff, on how the government and the media suppress dissent in the United States.

Jim Moore, an instructor in politics and government at Pacific, also cited the paper as a factor in the city's increasingly progressive character, although it encourages input and columns that reflect all views, including Zmudzinski's.

Another factor, said Russ Dondero, a professor emeritus in politics and government, is the city's Latino community, which grew from 9 percent in 1990 to 16 percent in 2000, according to U.S. Census data. Though socially conservative on some issues, Latinos tend to vote Democratic, he said. It's also "a consciousness-raising thing" for the city, he said.

"Open and affirming"

In January, the already progressive United Church of Christ, an "open and affirming" church that welcomes gays and lesbians, hired as a pastor Jennifer Yocum, who is lesbian, and a few of its more conservative members left.

Zmudzinski sees the college as the biggest progressive factor in town: "If my dream came true and Pacific University disappeared tomorrow, the town would be very conservative."

Progressive activism on campus has increased during the past three years, according to Lorelle Browning, a professor of English and peace studies. She also is a West County Council member.

Last November, Pacific students formed a chapter of Students for a Democratic Society, a group known in the '60s for its radical views. The Pacific chapter wants to "encourage critical thought" on current issues, according to its constitution, and hosted a talk by a former Black Panther in March.

The students' Progressive Union has been active in AIDS and hunger issues and voter registration.

Van Dyk, of Pacific's politics department, said some types of students drawn to attending Pacific "would be a bit more open to progressive issues than a school with a strong conservative religious basis or a school focused more exclusively on business administration."

Zmudzinski knows of no organized conservative groups in town and thinks conservatives keep quiet because they fear a liberal backlash.

He has tangled on GroveNet, a Forest Grove e-mail forum, with Eric Canon, one of the city's most outspoken progressives and chairman of the Interfaith Committee on Homelessness.

Canon excoriated Zmudzinski two years ago for his comments on illegal immigrants, accusing him of smears and "twisted values," then apologized and resigned from the list -- as did Zmudzinski.

"It wasn't the media for me. I get too passionate. I get carried away, and in my zeal I insult people," Canon said last week.

Progressives aren't the only ones who lash out. Last Thursday, for example, Pacific professor Mike Steele said he was carrying a lawn sign from the city's Obama campaign office to his car when a car slowed and a young man yelled, "If it ain't white, it ain't right!"

But overall, says chamber of commerce director Teri Koerner, Forest Grove is "almost as liberal as Ashland was when I left Ashland" in 2004.

Still, Koerner always sees potential for the pendulum to swing back. She has seen that happen repeatedly with small-business owners who must suddenly deal with government regulations and fees: "Their liberal leanings become more conservative."

Jill Rehkopf Smith: 503-294-5908; jillsmith@news.oregonian.com

Archives
October 2004 November 2004 December 2004 January 2005 February 2005 March 2005 April 2005 May 2005 June 2005 July 2005 August 2005 September 2005 October 2005 November 2005 December 2005 January 2006 February 2006 March 2006 April 2006 May 2006 June 2006 July 2006 August 2006 September 2006 October 2006 November 2006 December 2006 January 2007 February 2007 March 2007 April 2007 May 2007 June 2007 July 2007 August 2007 September 2007 October 2007 November 2007 December 2007 January 2008 February 2008 March 2008 April 2008 May 2008 June 2008 July 2008 August 2008 September 2008 October 2008 November 2008 December 2008 January 2009 February 2009 March 2009 April 2009 May 2009 June 2009 July 2009 August 2009 September 2009 October 2009 November 2009 December 2009 January 2010 February 2010 March 2010 April 2010 May 2010 June 2010 July 2010 August 2010 September 2010 October 2010 November 2010 December 2010 January 2011 February 2011 March 2011 April 2011 May 2011 June 2011 July 2011 August 2011 September 2011 October 2011 December 2011 January 2012 February 2012 March 2012 April 2012 May 2012 June 2012 August 2012 September 2012 October 2012 November 2012 January 2013 February 2013 March 2013 May 2013 July 2013 September 2013 October 2013 November 2013 December 2013 January 2014 March 2014 April 2014 May 2014 June 2014 July 2014 August 2014 September 2014 October 2014 November 2014 December 2014 May 2015 September 2015 November 2015 December 2015 March 2016