Somebody once said we are all Americans, sometimes born in the wrong places.
I decided to join my new homeland.
I've come to appreciate the ideals that helped create this great country.
Republicans are accused of being against science because they don't want to pay for what they consider immoral. Democrats are against science when it doesn't fit their agenda.
If you are a pregnant woman who is considering an abortion, they don't want you to see this picture.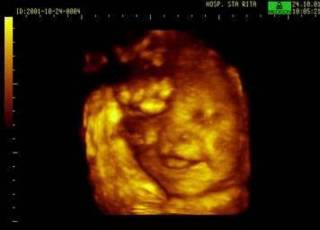 Smile

3D ultrasound technology is spreading fast. But many object to it.
I on the other hand would even be willing to pay for it if it's part of any waiting law. Show this picture to every woman seeking abortion and let her wait for 24 hours. I pay for the picture. She pays for the abortion, if she still wants one.