WUI (Writing under the influence)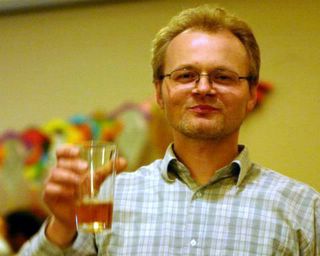 Somebody once said we are all Americans, sometimes born in the wrong places.
On a warm autumn day in 1986, while enjoying beer with my college buddies,
I decided to join my new homeland.
I've come to appreciate the ideals that helped create this great country.
Liberalism, political-correctness, multiculturalism and moral equivalence
are destroying it.
This old house Grovenet Wal*Mart Visiting Poland American wine better than French.
Thursday, October 07, 2004
Questions, questions, questions...
As promised below...
Please describe your background (family, education, social, business, political), including how long you have lived in Forest Grove.

I've been married for 12 years and have 3 children (9, 6 ½, and 2 ½.) I hold a B.S. in Computer Science from University of Washington and a M.S. in Computer Science from University of Wisconsin-Madison. My family moved to Forest Grove in 2000. I have 12 years of software engineering experience and work for Intel Corporation.

I immigrated to US from Poland in 1988 and became US citizen 6 years later. I worked as a helper in a furniture shop. Working part-time on weeknights and weekends, with the help of student loans and my wife's dedication and sacrifice, I managed to put myself through college.

How will your background help you in your duties on the Forest Grove City Council?

As an immigrant I can empathize with other immigrants and, in general, with all people trying to get ahead in life. I also witnessed disastrous policies of a centralized and overreaching government and faults of socialized economy. My experience provides me with a unique perspective on the role of the government in people's lives and its influence on market forces. Individual success has less to do with help we receive from the government and more with the opportunities this country offers, our own aspirations, willingness to work hard and to sacrifice. Helping the truly needy should be left to churches and other charitable organizations.

I would work to abolish preferences for so called "minorities" and would treat all residents of Forest Grove equally. This would mean discontinuing instruction in public schools in any language other than English. It would also mean ending housing, utility or transportation subsidies and ending special preferences in awarding government contracts.

What do you see as the biggest asset of the city of Forest Grove? How can that asset be used to improve the quality of life for Forest Grove citizens?

My family moved to Forest Grove for its small town charm, big back yards and somewhat lower property taxes as compared to other urban areas. Unfortunately, some on the city council want to change this by encouraging higher-density construction and by extending the light rail to Forest Grove. The former will create more traffic and the latter will raise our property taxes, lower values of properties along the tracks and further increase traffic noise. The light rail in Forest Grove would serve only a very slim minority of commuters and the overwhelming majority would be paying for it. It would also be disastrous for local businesses. Many of the 2,200 Pacific University students would leave our bars, restaurants and abandon our shops for more "attractive" areas. Instead, we should encourage influx of more entertainment venues to make our town more attractive by offering tax breaks, especially for rehabilitated properties.

What do you see as the biggest challenge/problem facing the City of Forest Grove, it's [sic] citizens and what are your solutions?

Increasing cost of fringe benefits for public employees and the flood of illegal immigrants threaten the economic well being of the city and surrounding areas.

Hiring of non-essential public employees should be kept to minimum and many of the city services should be contracted out to local businesses. The city should establish a certification process to verify that all contracted employees are authorized to work in US. This process should be open to all businesses and the directory of those businesses should be made public.

The level of certain services should be adjusted. The library could be closed at least one day a week. The fees for aquatic center services could be raised to keep up with the cost of operations and maintenance. New parks and improvements should be financed in larger part from fundraising by likely users.

How can the City keep its small town feel and deal with increased population/businesses?

The current level of density should not be compromised. The city should resist any pressure from the county or the state to do otherwise. Increasing construction density would increase traffic, force the light rail on us and increase our property taxes. If the city must accommodate more residents, it should expand outward. The growth of government and the services it offers should be limited to remove incentives to increase the residential tax base by increasing density.

Please detail anything else you might like the readers of the News-Times to know about you.

I believe that the primary responsibility of government is to protect its citizens and their property, and to provide basic infrastructure and services.

Those services should benefit most citizens and should be delivered at the lowest possible cost. To be cost-effective, many of those services can and should be delivered by contracting private enterprise through open competition, respecting the forces of free markets.

Government should be accountable to its citizens. The employees government must hire should be rewarded for their work at the same levels as their counterparts in the private sector. Good performance should be rewarded; mistakes should be corrected; mediocrity should not be accepted.

The growth of government should be limited, subject to population growth and inflation. Inefficient and unnecessary programs should be eliminated.

Taxation and regulation of private property should be limited to the absolute minimum lest our constitutional rights be infringed.

Government should resist the temptation to socially engineer lives of its citizens. I believe that individuals know best how to lead their lives.

I support President Bush in his efforts to combat terrorism and I will vote to reelect him. I will also vote for Ameri, Cox, Yes on Measures 35, 36, 37 and 38, and No on 34 and the library levy.
Archives
October 2004 November 2004 December 2004 January 2005 February 2005 March 2005 April 2005 May 2005 June 2005 July 2005 August 2005 September 2005 October 2005 November 2005 December 2005 January 2006 February 2006 March 2006 April 2006 May 2006 June 2006 July 2006 August 2006 September 2006 October 2006 November 2006 December 2006 January 2007 February 2007 March 2007 April 2007 May 2007 June 2007 July 2007 August 2007 September 2007 October 2007 November 2007 December 2007 January 2008 February 2008 March 2008 April 2008 May 2008 June 2008 July 2008 August 2008 September 2008 October 2008 November 2008 December 2008 January 2009 February 2009 March 2009 April 2009 May 2009 June 2009 July 2009 August 2009 September 2009 October 2009 November 2009 December 2009 January 2010 February 2010 March 2010 April 2010 May 2010 June 2010 July 2010 August 2010 September 2010 October 2010 November 2010 December 2010 January 2011 February 2011 March 2011 April 2011 May 2011 June 2011 July 2011 August 2011 September 2011 October 2011 December 2011 January 2012 February 2012 March 2012 April 2012 May 2012 June 2012 August 2012 September 2012 October 2012 November 2012 January 2013 February 2013 March 2013 May 2013 July 2013 September 2013 October 2013 November 2013 December 2013 January 2014 March 2014 April 2014 May 2014 June 2014 July 2014 August 2014 September 2014 October 2014 November 2014 December 2014 May 2015 September 2015 November 2015 December 2015 March 2016